If you're a fan of parkour or free running, then you're going to love this anime about a team of free runners, Prince of Stride: Alternative! If you're not familiar with parkour, it's a sport that involves moving through cities either by jumping, running and climbing over things. Here's some real life parkour in action.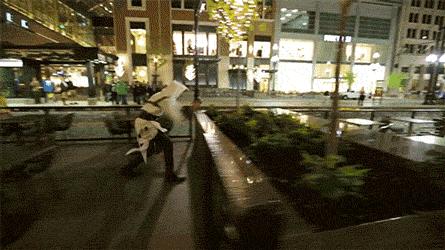 The story of Prince of Stride: Alternative is about Nana Sukarai, a first year high school student. She was drawn by the Stride Club of Honan Academy and she decided to join. Just like her, one Takeru Fujiwara also had the same motive.
However, when they joined, what they met was a team divided against itself. And the prevailing question was whether or not these two would be be able to unite the team and bring them together.
Not ready to give up, they brought into the team a fast runner, Riku Yagami, who had an interest in all sports. Out of all the free runners in this anime, he was one of, if not the fastest. With the new addition, they had just one goal ahead; to win the coveted summer competition and restore the glory of Honan's Stride Club.
I'd like to start with the art because of how clean and beautiful it is. Everything from the colors blends to the animation is absolutely stunning. The soundtracks and music also fit perfectly with the art. Honestly, this was the last thing I expected from a parkour and free running anime but everything was executed to near perfection. Check out the promotional video for the Prince of Stride: Alternative anime!
One may not expect much as this anime is by no means the most popular, but Prince of Stride: Alternative was surprisingly amazing and a pleasure to watch. In the end, you learn what it means to really be a part of a team rather than trying to do everything by yourself. It is also about connecting and building up one another.
For example, Takeru who had a problem working with others in the beginning eventually came to learn the true value of friendship and teamwork. The premise of Prince of Stride: Alternative did not just focus on solely winning but each character had to work on themselves in order to develop and grow.
The team faced a lot of hurdles trying to make a come-back within a short period of time before the end of the summer competition. While the team won in Episode 5, Ayumu sustained an injury. An urgent replacement was needed but sacrifices had to be made. No matter what happened, a decision had to be made. Even if they end up losing, it would still be better than doing nothing at all.
And so at this stage of the plot, Kuga who was an original member, had to come in. All disagreement had to be put aside for a common goal. This was exemplified in Episode 9 as Riku and Takeru were taken aside to settle their differences.
All in all, I truly love Prince of Stride: Alternative because of what it offers beyond animation. It is full of lessons that are about the importance of human relationship. At the end of the anime, I found myself wishing for some more free runners action! Too bad it was so short.
Before watching Prince of Stride: Alternative, I was never really into stuff like free running, parkour, or track and field but after this anime, I might just try getting into it myself. Let's just hope I don't give up after a few weeks! Or days.